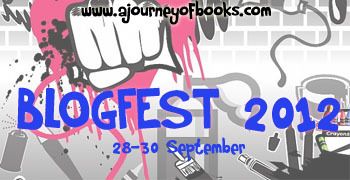 Hi guys! I'm so stoked to be joining this giveaway event! I'm actually doing two events for Sept 28-30, but they are totally different from each other. And this is ne of them. Anyhoo, Blogfest 2012 is hosted by A Journey of Books. It's sort of a giveaway hop or a blog run. Yes, there will be a giveaway. I'm giving away $10 worth of book/s from Book Depository. This will be international, so long as Book depo ships to your country. Just fill up the rafflecopter form below. Easy peasy! Enjoy guys!


Check out these blogs:)
By the way, don't forget to go check out
A Journey of Books
for the complete list of the participants. Of course you are free and are encouraged to check each link. Lots of giveaways for y'all. Plus I heard there's a massive giveaway.